Bitter Truth about youth entrepreneurs
20 years back youth has left the family business, if someone has studied well they never came back to the family business. Even the families encourage them to move out to the corporate world! However, we rarely see educated youth going back to build a family business into an organised business. Turning family-run businesses into a profitable venture for the upcoming world again. However, this concept changed rapidly and the youth started running towards the American dream, steady jobs, quality life and rising above the regular run-of-the-mill business.
Present scenario
Today world is mushrooming up with youth entrepreneurs and first-generation entrepreneurs. They are determined to establish themselves. all are youth, they want to prove their mettle in entrepreneurship. the reason was probably the uncertainty about the business and the changing market. This fear has added to the rush towards jobs, corporate lives, American life. Why does none of the youth dare to stay back? Held their hands and head high and bring the change that they want to see in the entrepreneurial and business world?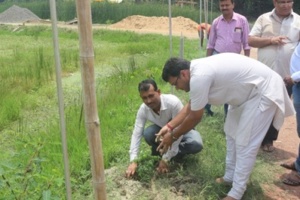 Meet this Youth
Today, we have Ajay Chowdhary, one of several youth entrepreneurs, who has been working towards transforming his family business into a professionally managed business, taking rapid strides with the help of diversification, expansion and delegation. He is going back to his roots, expanding his family business, at the same time creating new businesses, while holding the values that lay at the foundation of the parent company.
His ideology
An idea which he hopes inspires the youth is to develop India, we must re-visit our roots.
People and youth today have woken up to the need of business leaders and entrepreneurship but they are yet to realise that letting your family businesses die is actually killing their own economy and also creating a borrow and live lifestyle, e.g. people who run from a Kirana shop are now dependent on platforms like Grofers, amazon pantry or Reliance mart if one of these Kirana store family owners had chosen to conceptualize that store we would be living in a much more inclusive society. That is what drives Mr Ajay Chowdhary. He believes that we need to introduce the same level of modernization and innovation, into family businesses to keep them from becoming obsolete.
Ajay Chowdhary one of the youth entrepreneurs today takes along with him oil stores, biomass waste recycling factories, affordable land development etc. Each venture that he grows has a mix of innovation and back to roots approaches.
The backstory
Ajay Chowdhary's success story revolves around his motto of hard work and discipline. After his engineering, he started his career as a Software Engineer at Cognizant Technologies, followed by working as the Region Head for Indian Sub-Continent at Transworld Shipping.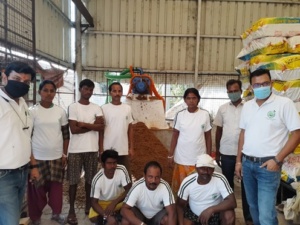 After completing his MBA in Finance from KJ Somaiya Institute of Management, Mumbai, he worked as a relationship Manager at ING Vysya Bank Pune. In the year 2010, he stepped into the real world of business with his first venture Fingyan (An Education Institute for Finance Students).
In 2011, he founded the First Waste to fuel, biomass conversion manufacturing unit. Established in West Bengal by the name Shivam Biofuel. This was an important step towards sustainability, after which he never looked back. In 2016, he started his journey as a real estate developer with Manafuli Developers Pvt. Ltd.
Terms that have fascinated him since eternity
People are rare in today's date who have an inner fire to do something different and positive for nature. Everyone is so focused on greedy motives that they forget that nature has limited resources to bless us with. Keeping this in mind, Ajay Chowdhary one of the youth entrepreneurs decides to pave his path of preserving nature.
But like any other inspiring story, his story begins steadily, adding new terms to his fascination as he works in different fields.
"Business" and "Value Creation" – the two terms have fascinated him since eternity. His first venture at the age of 23, after completing his MBA a third term was added to his list "Empowerment" when he paid the salaries to two of his first employees.
Shivam Biofuel, his waste management venture fuelled not only the industrial furnaces while being eco-friendly but also his soul. During the last 10 years, a new term "Sustainability" was added to his Success Dictionary. Representing his venture at SMART-FIFTY @IIMC, HOTPITCH @TIEKOLKATA and StartUpJalsa while garnering accolades wherever he went, was a truly enriching experience.
His ventures and 
Ajay Chowdhary has a vision for a sustainable approach towards business. He pines to grow the impact of his family business with this new dimension. He says, "My goal is to emerge as a thought leader to create socially responsible and sustainable business under SME sector." With this commendable vision, he along with his brother Abhishek Chowdhary envision a dream. A dream to establish "Manafuli Group of Companies," where during the last 10 years they have started multiple businesses from scratch and developed team capabilities and operational efficiencies, creating successful ventures in Waste Management,Real Estate, FMCG Distribution and Health Care domains.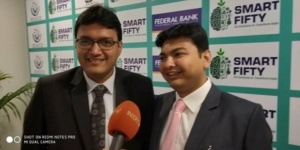 Goals convert to actions
One of his major entrepreneurial experiences includes Shivam Swachh Soch Pvt. Ltd., which is a waste management company where they convert Agricultural Waste, Crop residue and City Horticulture Waste into Biomass Briquettes which is replacing coal from the industrial furnace. This is one of those initiatives that will inspire the young generation. To have a sustainable approach towards every step they take in their life.
His idea is crystal clear, to give back to Mother Earth more than we receive from her. For which, every year he conducts a tree plantation activity with his family and business associates. In 2019 planted more than 120 trees and are planning to plant about 3000 more trees in the year 2021. He has also set up a cow dung processing unit in association with the "Calcutta Pinjrapole Society" in November 2020.
He has taken various steps to cure the harm that has been given to our nature. His initiative of Shivam Swachh Soch Pvt. Ltd. has given a double fold benefit of reducing carbon emissions. While restricting the farmers to burn crop residue as well as replacing coal as a furnace fuel. The benefits of this initiative are not only limited to protecting nature. At the same time have also contributed towards the indirect employment to more than 250 people. That too at the bottom of the pyramid and has promoted rural entrepreneurship. Till 2021 he successfully converts 30,000 Tons of waste to biomass briquettes while saving 15,000 Tons of CO2 emissions.
Further Projects
Even in the arena of affordable ownership, he did some praiseworthy work. Amtala Housing Complex recognizes as the fastest growing and the trustworthy residential township in the 24 South Parganas, West Bengal. They deliver over more than 250 Housing Plots in the last three years. The most praiseworthy initiative in this project is the fact that the building is constructed on infertile land. This land has been a liability to its owner and has now become a dream home for its new owners. He has also made sure to have a natural green cover throughout the project. All the work is happening in a planned way so it stays true to nature.
He also uses the tool of network marketing to add more entrepreneurs to his system than agents. With this approach, he has developed a team of more than 70 entrepreneurs. All have added to his already long list of accomplishments.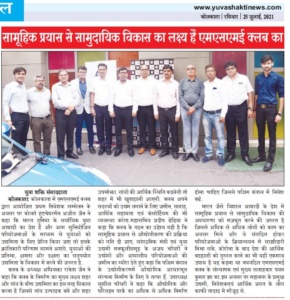 One step closer to a healthy lifestyle
Unlike other businessmen we meet in our daily lives, he has an aura that makes him stand out. An aura that spreads positivity. Because of his determination and willingness to change the world and protect nature. He has also taken up the issue of health and hygiene.
As soon as corona hit the lives of almost everyone, he decided to put forward a helping hand. He and his team set up the entire hand sanitiser unit within 15 days starting April 2020. They scaled up operations to meet high market demand and supplied hand sanitiser to govt. offices, authorities and hospitals. He works with NGOs to distribute hand sanitiser to rural areas. Also, self-help groups as a part of CSR activity.
Accomplishments
Ajay Chowdhary has come a long way and deserves recognition for his laudable work. His Start-up has been awarded as the Top 50 Solutions to Transform India. At the Smart Fifty Start-Up Contest conducted by IIM Calcutta Innovation Park. In association with the Department of Science and Technology, Government of India, 2018. Apart from this he also got awarded as the Top 24 Start-ups at TiECon Kolkata 2020. Conducted by TIE KOLKATA and, Top 40 Start-ups at Start-up Jalsa Invest Edition in Dharamshala 2020 for youth entrepreneurs.
Indeed an Inspiration
Most of us have become so absorbed in materialism that we have distanced ourselves from nature. However, people like Ajay Chowdhary, stand tall among the crowd. It inspires everyone to take their baby steps towards progress. They are teaching youth entrepreneurs, how to balance money without harming nature. Just running for greed, is not gonna help you in the times to come. We all need to learn to be eco-friendly entreprenurs. That day will mark a new revolution!
Source: Story Of Souls.